Bobcat MT52 Prowler Rubber Track - Size: 180x72x39
Bobcat MT52 Prowler Rubber Track - Size: 180x72x39
Need Some Advice?Speak to one of our Product Specialist
Product Description
This ad is for a single Prowler Rubber Track to fit your Bobcat MT52 Mini Skid Steer Loader. The size of this track is 180x72x39 .
This track performs best in the following applications: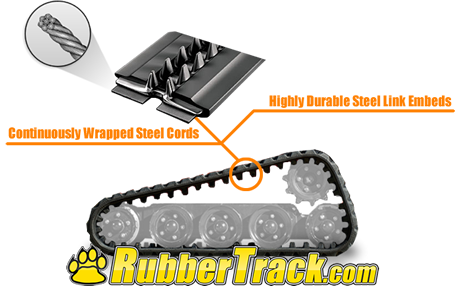 Although you can operate upon Gravel, and Paved Lots you'll get the best service life and efficiency while operating within the suited applications mentioned above.
This Bobcat MT52 Rubber Track has a nice deep tread lug for increased traction and maneuverability. If you are looking to use your Mini Skid Steer to pull brush, fence or other tasks typically performed with your machine, our tracks will provide the extra strength needed to withstand the extra torque and forces applied to them.
In our industry, you'll find that there are essentially two types of rubber track manufacturers, and they are:
Standard Grade
Premium Grade (Prowler)
A Premium Grade track is made of all natural rubber compounds that are blended with highly durable synthetics. A high Carbon Black content make our tracks more heat and gouge resistant, increasing the overall service life of the track when operating on hard abrasive surfaces. Premium tracks also use continuously wound steel cable embedded deep within the carcass to build strength. Additionally, our steel cables receive a coating of Vulcanized Rubber to protect against deep gouges, and moisture that may penetrate through the channels created by these gouges.
Standard Grade tracks use lower amounts of Carbon Black making them less heat and gouge resistant. Standard Grade tracks also use spliced or overlapped inner cords that are weaker than the continually wound cables, and generally do not coat the inner cords in vulcanized rubber, to keep their pricing down.
Prowler is a Premium Grade Track System, and we utilize a unique manufacturing technique called FST (Flexural Strength Technology). The result of FST is a track with a hard, abrasion resistant outer circumference and a more flexible, and resilient inner circumference. This creates a track that can flex more freely while engaging your undercarriage components while maintaining its abrasion resistance to hazardous debris.
Should you have any questions about Prowler Rubber Tracks for Mini Excavators, Track Loaders, Mini Skid Steers and Carriers, please call, and allow one of our product specialist to assist you.
Warranty Information
RubberTrack.com is a eCommerce website developed and maintained by Prowler MFG located in Greensburg Indiana. Products sold through this website are backed by Prowler MFG, and should be directly contacted if you have a warranty claim or concern about your rubber track.
Prowler MFG stands behind all of our Prowler Brand replacement rubber tracks. Our rubber track standard warranty is available on rubber tracks for Mini Excavators, Compact Track Loaders, Multi-Terrain Loaders, Mini Skid Steer Loaders, Drillers, and Carrier Dumpers.
Prowler MFG - Rubber Tracks Limited Warranty
What Does This Warranty Cover?
This warranty covers any manufactures defects or poor workmanship during the production of your new Prowler Rubber Tracks, or other brand(s) sold through our website or store.
How Long Does The Coverage Last?
Beginning from the date of sale, the following equipment types will come standard with our 12 Month, 1000 Hour Warranty:
Compact Track Loaders
Multi-Terrain Loaders
Mini Skid Steers
Carrier Dumpers
Trench and Drilling Machines
Mini Bulldozers
Beginning from the date of sale, the following equipment types will come standard with our 18 Month, 1500 Hour Warranty:
What Will Prowler MFG Do?
Our warranty is prorated, and should your new track system fail during the warranty period, you will be reimbursed for the remaining portion of the warranty. This can be issued as cash back, or as money down toward a replacement track. Unless agreed by both the buyer and seller, the buyer will be responsible for all shipment charges if the rubber track has a warranty life of less than 50%.
If your new track were to fail within the first 3 months of your purchase date, Prowler MFG will pay all related shipping, and replacement charges.
What Does This Warranty Not Cover?
We do not cover rubber tracks that are damaged due to improper installation, worn undercarriage components, or foreign objects ran over by your machine. (ie. Operator error)
How Do You Get Service?
If you believe that your new track is defective, we ask that you do the following before you contact us so that we can quickly resolve the issue:
Take photographs of the failure. We need to identify what had occurred so that we can take corrective measures to assure this does not happen again. Try to take photographs while the track is still on the machine if you can. If possible, place a measuring tape or stick beside the damage so that we can better judge the size.
Write down the serial number on the track. The serial number can be found along the outside inner edge of the track embedded into the rubber. You may have to wash off your track to help locate this, but every track will have one.
Be sure to have the exact name of the individual or business the purchase was made under.
Take a few photographs of your undercarriage, specifically the drive sprocket. This will help identify if your undercarriage may be having issues, or contributed to the failure.
Once you have this information, you can email this information to Todd Swift at: todd@wardequip.com
Then call and ask for either your sales rep, or Todd Swift (Sales Manager) at: 877-477-6953 (Ext: 110)
Our business address is:
Prowler MFG
1220 North Liberty Circle
Greensburg, IN 47240
(877) 477-6953
Decisions are usually reached that same day, or within 72 hours as long as all the information we requested is provided.
How Does State Law Apply?
This warranty gives you specific legal rights, and you may also have other rights which vary from state to state.
Shipping and Returns
How Quickly Do We Ship?
Shipments depart our warehouse between 3pm and 5pm EST, Monday through Friday, excluding holidays. Orders placed before 2pm EST Monday through Friday usually ship the same day. Orders placed after normal business hours, or over the weekend will ship the next business day, excluding holidays.
Qualified Areas For Free Shipping
Many of our products are advertised with free shipping. Please note, this only applies to those shipping addresses located within the Lower Continental 48 States. Any product(s) being shipped out of the Lower Continental 48 States, including Alaska and Hawaii, will be required to pay additional shipping fees to deliver to these locations.
Buyers with shipping addresses within the lower 48 States that are off-shore or located on an island, will be required to pay additional shipping access fees. These fees must be collected before the product is shipped. We reserve the right to cancel and refund orders in the event that a buyer refuses to pay the additional fees.
A Valid Phone Number Is Required
Buyers are required to provide a valid phone number for our shipping company. Many of our products are shipped by tractor-trailer, therefore someone must be available during normal business hours to unload and accept delivery. Most transport carriers will not deliver freight unless they can contact the buyer via phone to schedule a drop-off time. Failure to provide a valid phone number can result in delays, or cancellation of your order.
Residential Deliveries
We encourage our buyers to provide a commercial delivery address. This is preferred by most freight carriers and in most cases will decrease your transit time by at least one day. We can, however, deliver to a residential address as long as someone is available to unload the freight. We reserve the right to collect additional fees if accessorial services (liftgate, etc) are required at the time of delivery.
Shipments should be picked up at your local freight terminal if you do not have a way to unload, or if it is difficult for a Tractor-Trailer to access your location. Your trucking terminal must be one of our preferred Carriers. Please contact us for help deciding what may work best for you if you're unsure.
Change Of Address Re-consignment Fees
Any delivery address changes requested after the product has left our warehouse are subject to re-consignment fees. These fees may vary and are designated by our freight carriers.
Shipments To Canada
Our flat rate shipping does not include shipping into Canada. Additional fees will apply. A Customs Broker will be required to complete your order. Please provide the Name, Address, and Phone Number of your Customs Broker before or immediately after you place an order. All Custom Fees and Taxes will be paid by the Buyer to the Customs Broker before delivery. We can help locating a Broker for you if needed within your area.
We apologize to those who this may apply to. Please understand that our listings are competitively priced which means our profit margins will not permit additional shipping cost. Thank you for your understanding on these matters.
Returning Incorrect, Damaged, Or Unneeded Items
We accept returns of most new, un-opened/un-used items within 30 days of delivery. All items must be in original condition. A full refund will be issued less the original and return shipping costs, unless the return is a result of our error (i.e. you received an incorrect or defective item, etc.) Returns of used items are generally not accepted and are subject to a 25% fee as determined by the original purchase price.
You should expect to receive your refund within 2 weeks of giving your item(s) to the return shipper, however, in many cases you will receive a refund much more quickly. This time period includes the transit time for us to receive your return from the shipper (1 to 5 business days), the time it takes us to process your return once we receive it (1 to 2 business days), and the time it takes your bank to process our refund request (2 to 3 business days).
If you need to return an item, please contact us with your order number and details about the product you would like to return.