Trac Chief XT Tires and Wheels - 10x16.5
Trac Chief XT Tires and Wheels - 10x16.5
Need Some Advice?Speak to one of our Product Specialist
Product Description

| | | | | | | | | |
| --- | --- | --- | --- | --- | --- | --- | --- | --- |
| Tire Size | Ply Rating | Tire Weight | Diameter | Tire Width | Tread Depth | Capacity | Max PSI | Wheel Size |
| 10x16.5 | 10 | 49 | 30.6 | 10.8 | 21/32 | 4710 | 75 | 8.25x16.5 |
This listing is for a set of four (4) Tires and Wheels pre-mounted and air-filled ready for immediate operation.
The 10x16.5 Carlisle Trac Chief XT Skid Steer Tire was designed as an economical tire that maximizes traction and puncture resistance. They feature a built in rim guard to help reduce risk of damage from debris and moderate impacts. The Trac Chief XT is commonly used on skid steers, backhoes, subcompact tractors, aerial work platform lifts, and rough terrain forklifts.
Our Prowler Skid Steer Wheels have a 3/8" steel that provides maximum strength for added durability. Prowler Standard Duty Wheels are not just as strong as OEM, but cost much less, and will include Stem Guards for increased protection.
| | |
| --- | --- |
| Features | Benefits |
| Step tread design | Self cleaning tread helps prevent soft soils from clumping between the lugs |
| High durometer | Increased durability and abrasion resistance |
| All natural rubber blended with highly durable synthetics | Improves tires service life and high chunking and puncture resistance |
| Rim guard protection | Helps reduce damage to the wheel from moderate impacts |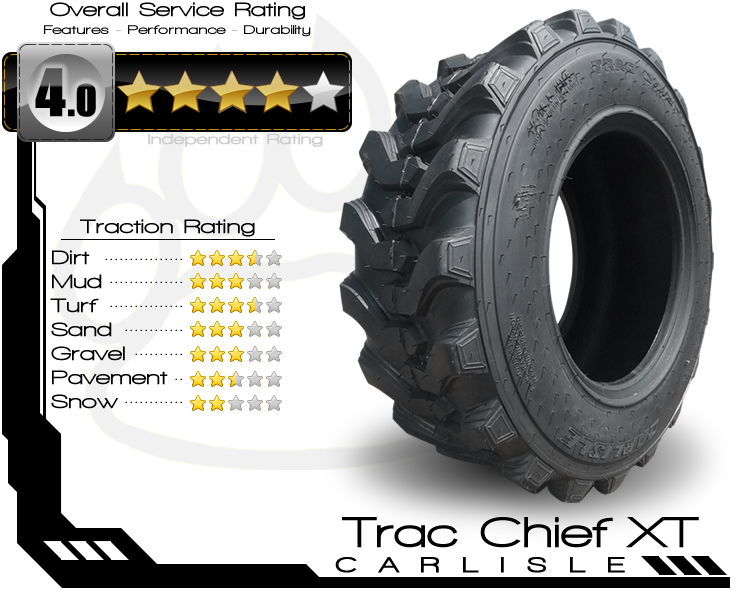 Add Prowler Skid Steer Tire Seal For Increased Protection (Optional)
Prowler Tire Seal is a cost-effective and non-hazardous tire sealant made in the USA. It offers light-weight tire protection, sealing punctures up to 3/8", when your equipment is exposed to harsh conditions.
Prowler Tire Seal is the only tire sealant on the market that contains Kevlar®. Kevlar® is a durable, high tenacity fiber that is 5x stronger than steel.
Stopping one puncture will pay for the cost of the sealant itself, not including your downtime to repair the flat.
Prowler Tire Seal is a perfect fit for Industrial Tire applications including but not limited to mining operations, agriculture, construction, ground support, all-terrain, landscaping and waste management.
Want to add this to your order? Be sure to check the box below the tire price to "Add Prowler Tire Seal" and we will pre-fill each tire with 60 to 75 ounces each depending on your tire size.
Product Reviews
Write Review
Overall order/delivery was excellent - Tires good so far

Posted by MC on Jun 28th 2021

it's a little early to rate the tires for longevity or heavy use, however, they look great and so far have performed very well. The shipping/receiving process was very good. I called in twice to double check size and make sure everything would fit. All were very helpful and received the tires within 3 days after ordering. Very pleased

Good Stuff

Posted by Ed on Jul 13th 2020

Good price. Shipped very quickly to a residential area. Installed and used for a day. Seem to be good quality. Ride is much better than the dry rotted tires they replaced. Always had good luck with Carlisle tires.



Warranty Information
Prowler MFG (RubberTrack.com) stands behind all of our Skid Steer Tires. Beginning from the date of sale, all Skid Steer Tires are backed by our standard 12 Month, 500 Hour Warranty
This warranty DOES NOT cover incidental or consequential damages, including, but not limited to, lost time, lost wages, inconvenience, loss of equipment use, cost of service work or transportation, related property damage, personal injury or consequential damages of any type or nature.
What is warranted? This warranty applies to All Prolwer Skid Steer Tires manufactured by Carlisle. If any tire becomes unserviceable due to defective workmanship or materials, Prowler will replace the defective product with an equivalent Tire on a pro rata basis.
This warranty is void if a covered tire is worn past 3/32" of Tread depth at any pointon the tread contact surface.
Any tires submitted for ride condition, issues must be presented by the consumer within the first six (6) months of service if accompanied by Proof of Purchase.
This warranty DOES NOT cover mounting, balancing, or related service/labor charges.
This warranty DOES NOT apply to the following:
FIELD HAZARD OR STUBBLE DAMAGE (cuts, snags, punctures, chunk in treador shoulder area, penetration from foreign objects and stubble related tiredamage).
Overloading, improper inflation pressure, and/or resulting run flat failures.
Misapplication of tire or wheel components.
Improper repair or insertion of balancing materials or sealant.
Tires damaged due to chemical contamination.
Improper mounting or tire storage conditions.
Cosmetic irregularities or tires marked "NA" (Non-Adjustable)
Warranty Pro Rata Calculations
All calculations will be based on the date of tire manufacture or the date of purchase. If using date of purchase as basis for service time, the consumer must supply the original proof of purchase. After the "No Charge" period, pro rata replacement tire charges are calculated as follows:
Up to 1 Year - No Charge
During 2nd Year - 20% Tire charge to customer
During 3rd Year- 35% Tire charge to customer
During 4th Year - 50% Tire charge to customer
During 5th Year - 70% Tire charge to customer
To determine the replacement price to the consumer, the pro rata percentage charge is multiplied by Prowlers current selling price on an equivalent tire. Appropriate taxes, mounting, or other service charges will be added to the replacement price, which is the responsibility of the consumer.
Shipping and Returns
How Quickly Do We Ship?
Shipments depart our warehouse between 3pm and 5pm EST, Monday through Friday, excluding holidays. Orders placed before 2pm EST Monday through Friday usually ship the same day. Orders placed after normal business hours, or over the weekend will ship the next business day, excluding holidays.
Qualified Areas For Free Shipping
Many of our products are advertised with free shipping. Please note, this only applies to those shipping addresses located within the Lower Continental 48 States. Any product(s) being shipped out of the Lower Continental 48 States, including Alaska and Hawaii, will be required to pay additional shipping fees to deliver to these locations.
Buyers with shipping addresses within the lower 48 States that are off-shore or located on an island, will be required to pay additional shipping access fees. These fees must be collected before the product is shipped. We reserve the right to cancel and refund orders in the event that a buyer refuses to pay the additional fees.
A Valid Phone Number Is Required
Buyers are required to provide a valid phone number for our shipping company. Many of our products are shipped by tractor-trailer, therefore someone must be available during normal business hours to unload and accept delivery. Most transport carriers will not deliver freight unless they can contact the buyer via phone to schedule a drop-off time. Failure to provide a valid phone number can result in delays, or cancellation of your order.
Residential Deliveries
We encourage our buyers to provide a commercial delivery address. This is preferred by most freight carriers and in most cases will decrease your transit time by at least one day. We can, however, deliver to a residential address as long as someone is available to unload the freight. We reserve the right to collect additional fees if accessorial services (liftgate, etc) are required at the time of delivery.
Shipments should be picked up at your local freight terminal if you do not have a way to unload, or if it is difficult for a Tractor-Trailer to access your location. Your trucking terminal must be one of our preferred Carriers. Please contact us for help deciding what may work best for you if you're unsure.
Change Of Address Re-consignment Fees
Any delivery address changes requested after the product has left our warehouse are subject to re-consignment fees. These fees may vary and are designated by our freight carriers.
Shipments To Canada
Our flat rate shipping does not include shipping into Canada. Additional fees will apply. A Customs Broker will be required to complete your order. Please provide the Name, Address, and Phone Number of your Customs Broker before or immediately after you place an order. All Custom Fees and Taxes will be paid by the Buyer to the Customs Broker before delivery. We can help locating a Broker for you if needed within your area.
We apologize to those who this may apply to. Please understand that our listings are competitively priced which means our profit margins will not permit additional shipping cost. Thank you for your understanding on these matters.
Returning Incorrect, Damaged, Or Unneeded Items
We accept returns of most new, un-opened/un-used items within 30 days of delivery. All items must be in original condition. A full refund will be issued less the original and return shipping costs, unless the return is a result of our error (i.e. you received an incorrect or defective item, etc.) Returns of used items are generally not accepted and are subject to a 25% fee as determined by the original purchase price.
You should expect to receive your refund within 2 weeks of giving your item(s) to the return shipper, however, in many cases you will receive a refund much more quickly. This time period includes the transit time for us to receive your return from the shipper (1 to 5 business days), the time it takes us to process your return once we receive it (1 to 2 business days), and the time it takes your bank to process our refund request (2 to 3 business days).
If you need to return an item, please contact us with your order number and details about the product you would like to return.